Established in 1952
(323) 582-7348
Page: 4290
Wednesday, May 22, 2013
Truncated Balls
Balls with a Flat
Flatted Balls
Balls with a flat ground or machined on them are widely used in industry.Flat areas can be ground, EDM'ed, or machined on balls.
We have developed production holding devices that allow us to machine a flat surface on a precision ball without adversely effecting the quality.
A preliminary flatting process can be performed, then the balls can be precision flat lapped to hold a very close dimensional tolerance and micro inch surface quality. Precision balls can be ground and or lapped for parallel flats. ( See Ball Gages )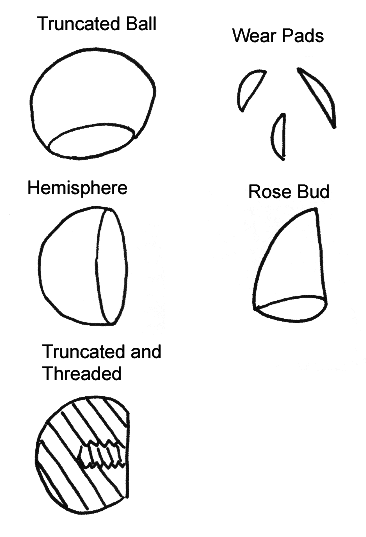 Figure #1, Five Forms of Truncated Ball
Clamping
One common application is for use as a self-aligning flat for clamping. (See Figure #2.)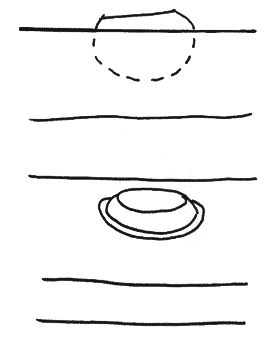 Figure #2., Self Aligning Clamp
Mounting
A flat provides a positive plane for mounting the ball in mechanical systems. Many times the truncated ball is further modified to include a hole, or a threaded hole.
In the kinematic arena, truncating balls are a widely used method of mounting the spherical contacts. (See Figure #3A - #3B and #3C.)


| | | |
| --- | --- | --- |
| Figure #3A. | Figure #3B. | Figure #3C. |
| | | |
| Truncated Ball Glued on a Surface | Truncated and Drilled Ball, Pinned and Glued on a Surface | Truncated and Threaded Ball Clamped on a Surface |
Machine Tools
In machine tool calibration or for machine set up, almost perfect hemispheres are used to exactly define, the multi-axis true position, of all of the related elements. By locating the perfect hemisphere on the rotational axis of the machine and knowing it's exact radius, the interrelated axii of all other elements can be accurately determined.
Staking
Another version of the truncated ball, is a ball with two parallel flats. These very precise spherical disks are widely used to stake together extremely precise mechanical or electromechanical assemblies.
These precise spherical disks are also used as self-aligning thrust plates in small electro-mechanical mechanisms. In some elaborate systems, the two flat faces are precision lapped both flat and exactly parallel. (See Figure #4.)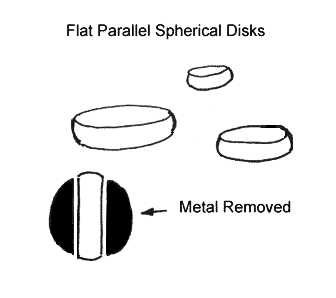 Figure #4.
The amount of truncation varies, according to the application. It may be a small, highly polished spot, called a facet, or there may only be a sliver of the ball left, that is used as a wear or location pad.
One of our European customers needed exact hemispheres, but he knew that they couldn't be produced because there was nothing left to hold them during the stock removal. We actually have a choice of several holding and machining methods that can be used for this chore, depending on the end application, the quality and the number of parts involved.
The ball can be held for modification by clamping in a collet or pot-chuck. It can be held in a diffusion chuck or mounted in a vacuum holding device.
The ball can be machined in a turning center (lathe). It can be surface ground on a reciprocating table or on a rotating table type machine.
Silicon Lens
We make extremely high quality silicon balls with a precisely truncated flat surface that is polished to optical lens quality for use in the infrared communication field.
Formed Truncation
Another form of truncation, in a sense, is when a form is cut out of a complete ball. (See Figure #5.)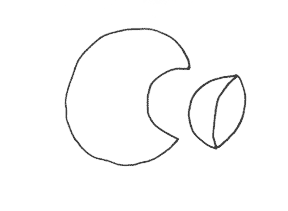 Figure #5., A Form Cut out of a Complete Ball
See truncated balls in our kinematic catalog #105-B for off-the-shelf truncated balls.