Photogrammetry Balls— Light Intensity Balls— Light Meter Test Ball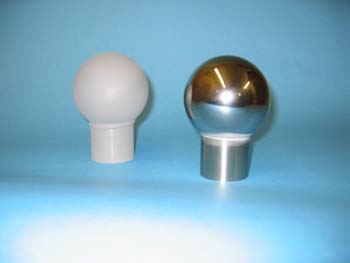 There are four different surfaces typically used for Photogrammetry.
There is a flat gray ball known as the 17% gray ball.
There is a flat white ball.
There is a flat black ball.
There is a very highly reflective metallic silver colored stainless steel ball.
The smallest size ball used for Photogrammetry is two inch ( 2", 50.2mm ) diameter. The most common size balls are three inch ( 3", 76.2mm ) and we have made some that were four inch ( 4", 101.6 mm ) diameter. They are usually drilled and threaded for a one quarter inch diameter with twenty threads per inch. On the larger diameter balls is an M 10x 1.5 metric thread is used. These two screw sizes are the industry standards for tripods. These balls are precision ground exactly spherical, so they do not produce hot spots. We have provided light weight six inch (152 mm) diameter, hollow aluminum, photogrammetry ball. To provide a durable, dent resistant ball, a one quarter inch wall thickness was used. Two precision machined, hemispheres are screwed together and then precision ground to produce an almost perfect ball. Several of the photogrammetry balls are often mounted on a rail in close proximity, so that the various light levels can be measured.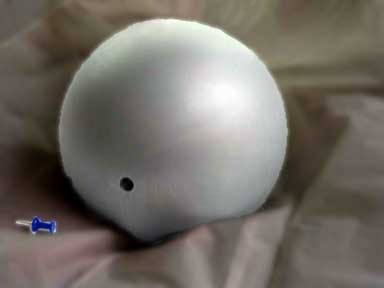 >