The Kinematic Quarter Round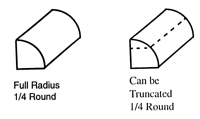 The Quarter Round is a different approach in kinematic design. A different reality is unlocked by simply thinking in different terms. How do you describe the surface of a Kinematic Platform? Is it the top of the physical plate or could it be better defined as the central plane of the kinematic system? What this changes is the very nature of the kinematic system. In order to achieve very high levels of mechanical perfection, i.e. geometry and surface texture in the kinematic elements, they are produced as separate entities that are.then attached to the platform. In order to get enhanced physical properties; i.e. hardness, stiffness and corrosive resistance in kinematic elements that are better than the material of the platform itself, the same approach is used.
By simply burying these enhanced kinematic elements in self supporting trenches that are machined into the platform proper, the rigidity and the resonate frequency of the platform can be raised by orders of magnitude. A high quality Vee Block is one of the most difficult pieces of kinematic hardware to produce. For this reason, two parallel cylinders have become a popular substitute for the flat angled facets of a Vee Block. Although very high quality cylinders are easy to produce, it is difficult to rigidly attach them to the Kinematic Platform. Cylinders of large diameter have a high profile, and are heavy and quite expensive.
By splitting a precision lapped cylinder of rather large diameter into quarters, we produce components that can be rigidly glued into a simple slot or trench machined into the Kinematic Platform.
Part Number
Original Cylindrical Diameter
Length
QR-75
.750"
19.05 mm
1.00"
25.4 mm
QR-100
1.00
25.4 mm
1.00
25.4 mm
Because of the relatively small cost of Tungsten Carbide compared with the overall cost of these components, it is usually the material of choice. Tungsten Carbide is the stiffest, hardest material that is commercially available. It has a stiffness or Young's Modulus of Elasticity of 98,000,000. P.S.I. and a hardness of 91 HRA. Unique Quarter Round components will be custom manufactured to meet any customer requirement. These may include corrosion resistance and special magnetic or electrical properties.
Kinematic Quarter Round Pricing
Part #
Description
Price
Purchase
QR-75-TC
QUARTER ROUND, 0.750" ( 3/4", 19.05 MM ) DIAMETER,
1" ( 25.4 MM ) LENGTH, TUNGSTEN CARBIDE
$142.00
QR-75-S
QUARTER ROUND, 0.750" ( 3/4", 19.05 MM ) DIAMETER,
1" ( 25.4 MM ) LENGTH, STAINLESS STEEL
$53.90
QR-100-S
QUARTER ROUND, 1.000" ( 25.4 MM ) DIAMETER,
1" LENGTH, STAINLESS STEEL
$79.20
QR-100-TC
QUARTER ROUND, 1.000" ( 25.4 MM ) DIAMETER,
1" LENGTH, TUNGSTEN CARBIDE
$164.00