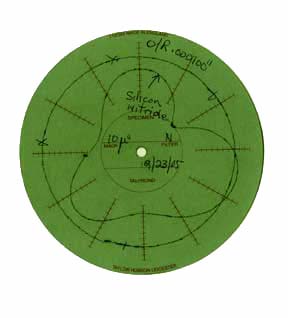 ( Bad ) Polar Chart from Talyrond
At Bal-tec, we use the Talyrond system to evaluate the roundness of our precision balls. With this system, the ball is fixed to an adjustable X-Y table. This table is adjusted to position the axis of the ball coincident with the near perfect axis of the rotating electronic pickup. Imperfections in the spherical form are recorded on a polar chart in millionths of an inch. The data supplied by the Talyrond is traceable to (NIST), National Institute of Standards and Technology.
This is a ( bad ) example of the polar chart produced on the Talyrond. The inner polylobular trace was made from a competitor's silicon nitride ball that was rated by them as a grade 10. The outer trace was made from a very good quality ball.