| | | |
| --- | --- | --- |
| Established in 1952 | | Page: 1020 |
The 14" Trivet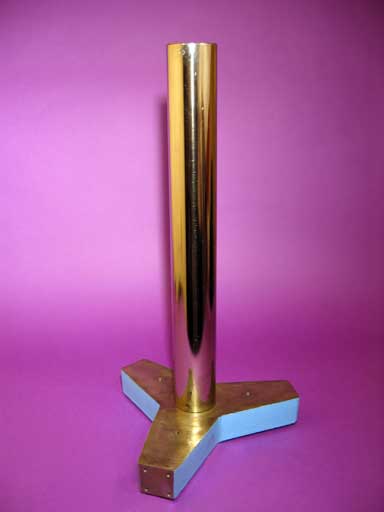 As the name implies, this is a three-legged mechanical base. The outstanding features of the "14-inch Trivet" are its lightweight, its extreme rigidity and its excellent mechanical stability.
The "Trivet" has a large fourteen inch 14" (356 mm) diameter footprint, that provides the required mechanical stability.This design is built around a very lightweight, but still extremely rigid, aircraft quality aluminum casting.
The "Trivet's" primary functions are to provide a lightweight, mechanically stable stand, to hold calibration artifacts during Coordinate Measuring Machine evaluation or to support scientific apparatus.
The lightweight of the "Trivet" is of special importance, when the equipment must be transported all over the country by the calibration technicians.
The standard version of the "Trivet" has three large seven eights of an inch 0.875" (22 mm) diameter hard stainless steel buttons, that are permanently attached to the three feet on the outer periphery of the "Trivet". These buttons are precision lapped flat and coplanar to provide the ultimate in dimensional stability.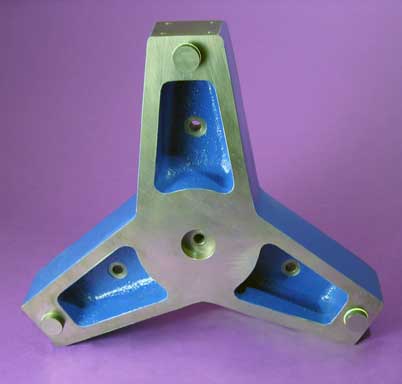 Trivet Feet


The wide equilateral span between the three feet of the "Trivet" is necessary to make up for its very lightweight.
There are a series of M10 X 1.5 threaded holes provided at strategic locations in the top surface of the flat platform. These threaded holes are used to rigidly attach any of the different length Anchors (see Technical data sheet on the Anchors in the C.M.M. literature) that may be required for stable location.
Custom hole patterns and threads sizes can be supplied at a modest cost.
The top surface, of the standard version, of the "Trivet", is two inches three hundred thousandths of an inch 2.300" (58.5 mm) above the base plane. This top surface is ground flat and parallel to the three large flat feet. In addition to the standard off the shelf hardware, custom designed clamping systems can be adapted to hold special equipment, rigidly on top of the Trivet.
Scientific Equipment Mounting
The standard "14 inch Trivet" with the appropriate length "Anchor" and mounting hardware can provide a most stable vertical mounting system for Microscopes, Telescopes and other Scientific apparatus.
Kinematic Mounting
As an alternative to the three flat buttons the three feet of the "Trivet" can be equipped with Kinematic vee blocks, Part number TR-14-AL-SVB, that mate with the spheres of our Four Bar Kinematic system (see under pre assembled Kinematic Platforms) for mounting on optical tables or other bread board apparatus. Also with this arrangement, the "Trivet" with its payload can be located, removed, and replaced within arc seconds. Using this arrangement it can be indexed in very accurate increments of 120 degrees.
| | |
| --- | --- |
| | |
| | KP-3-BAR |

Kinematic Platform Bottom Plate for Mounting the Trivet
Raw Casting
The raw casting for the Trivet is available for special projects that customers may choose to do in house. This casting is also available with the top surface Blanchard ground.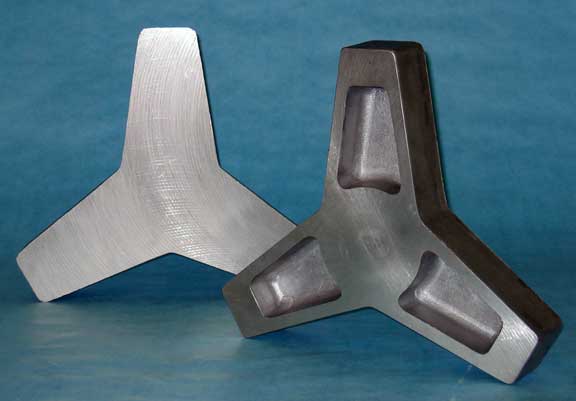 Trivet Casting
| | | | |
| --- | --- | --- | --- |
| Part # | Description | Price | Purchase |
| TR-14-AL | TRIVET, 14 INCH, ALUMINUM | $447.00 | |
| TR-14-HD | TRIVET, 14 INCH, IRON | $400.00 | |
| KP-3-BAR | KINEMATIC PLATFORM, THREE-BAR PLATFORM BASE | $68.00 | |
| CTR-14-AL | TRIVET RAW ALUMINUM CASTING | $227.00 | |
| CTR-14-AL-B | TRIVET, RAW ALUMINUM CASTING, BLANCHARD GROUND | $267.00 | |